Chemistry Educators of Oklahoma
AP Chemistry Review Workshop
Saturday, May 2, 2009
University of Central Oklahoma
AP Teachers - This review Workshop is an excellent opportunity for your students to prepare for the AP Chemistry Exam. Cheri Blackwood of Edmond Santa Fe High School, T.J. Dorch of Edmond Memorial High School, Valerie Ferguson of Moore High School (AP Chemistry Table Leader and College Board Consultant), Dr. John I. Gelder, Professor of Chemistry at OSU (former Chief Reader of the AP Chemistry Exam and College Board Consultant), Deborah Greear of Edmond North High School (AP Reader and College Board Consultant), Lisa McGaw, Laying the Foundation science consultant (AP Chemistry Question Leader and former College Board consultant), and Janice Willingham of Westmoore High School (AP Reader and College Board consultant) . All of these excellent instructors are familiar with the AP Chemistry program. New and experienced AP teachers as well as students will be able to ask questions during the workshop. The Review Workshop is FREE to students and teachers. Lunch will be sponsored by the Oklahoma Section of the American Chemical Society (pizza and soft drink). There are many local restaurants close to campus. Here is a campus map to find the location of the workshop.
Please e-mail (Valerie, John or Lisa) us to let us know how many students and teachers will be attending from your school so arrangements can be made to accomodate all attendees. We would like to know if you plan to participate by Wednesday, April 22nd.
Click below to see the current version of the schedule for Saturday, May 2, 2009
AP CHEMISTRY PREP SESSION
UNIVERSITY OF CENTRAL OKLAHOMA
SATURDAY, May 2, 2009
8:30am to 3:20pm
8:30 am Register (Howell Hall Atrium)
9:00 – 9:45 General session – Overview of Exam (Room 201 and 203) Overflow room 104B (nursing)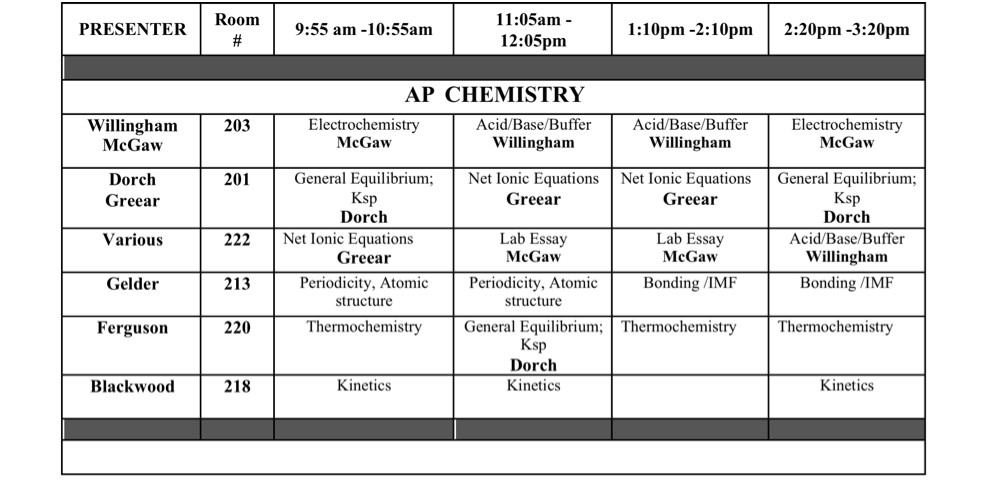 Lunch: 12:05pm to 1:05pm
Pizza will be served OR There are several local eating establishments or bring your lunch for a picnic by the pond.
THANK YOU TO OUR SPONSORS!
REFRESHMENTS AND PIZZA SPONSORED BY THE OKLAHOMA SECTION OF THE AMERICAN CHEMICAL SOCIETY, THE OSU and THE UCO CHEMISTRY DEPARTMENTS
COPIES PROVIDED BY UCO AND OSU CHEM DEPTS.